ARE YOU AND YOUR SHIPS READY?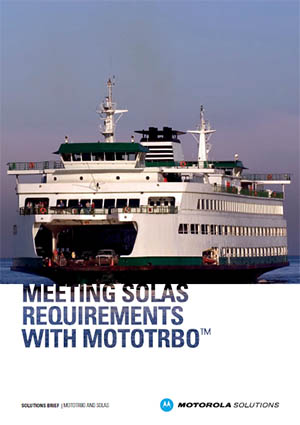 With the responsibility to ensure all ships conform to the latest Safety of Life at Sea standards are you confident you meet the minimum requirements for communication amongst firefighters and the wider crew of at least 2 two-way radios and that those radios are ATEX certified?
The Solutions Brief, 'Meeting SOLAS requirements with MOTOTRBO', gives you the opportunity to:
- Understand your responsibilities as set out by these new regulations
- Evaluate the DP4000 Ex Series ATEX Portable Radios; Motorola Solutions direct answer to your SOLAS commitments
- Gain clarity on ATEX ratings
The right communication solutions allow your ship's firefighters to protect, detect and extinguish fires before catastrophic consequences take hold.

"For ships constructed on or after 1 July 2014, a minimum of two two-way portable radiotelephone apparatus for each fire party for fire-fighter's communication shall be carried on board. Those two-way portable radiotelephone apparatus shall be of an explosion-proof type or intrinsically safe. Ships constructed before 1 July 2014 shall comply with the requirements of this paragraph not later than the first survey after 1 July 2018."
- SOLAS CHAPTER II-2 REGULATION 10.10.4