Integrate your products with Motorola Solutions
Take your solutions to the next level with the Application Developer Program. Learn about supported platforms, how to apply for different technologies and how you can become a member.
Why Motorola Solutions?
Motorola Solutions is a global leader in business communications and analytics. Our technology platforms in communications, command center software, video security & analytics, bolstered by managed & support services, help businesses stay productive and efficient.
100,000+
Customers worldwide
Benefits of the program
Being part of Motorola Solutions' Application Developer Program gets you access to the tools and equipment you need to create and test your solutions in order to ensure seamless implementation and increase your market-reach.
Application Developer Kit (ADK)
Our ADKs and documentation enable solution development for ASTRO® 25, DIMETRA™, Intelligent Middleware or MOTOTRBO™.
Modern Systems for Asset Distribution
Use our modern systems to access the assets and resources necessary for product development.
Development Tools
Utilize our library of docs, sample code, demo apps and custom tools along with industry open source tools (i.e. Android Studio) to help build your solutions.
Community & Motorola Solutions Support
Obtain quick support via your peers in the developer community. Alternatively, ask questions directly to trained Motorola ADP Engineers.
Our technology platforms
The Motorola Solutions Application Developer Program is for B2B professionals, desiring to build and integrate solutions for sale to end customers, participation in specific projects or for internal corporate use.
Quick links for existing members
Harness the strength of the Motorola Solutions Application Developer Program.

Showcase your solutions
Promote your products to the marketplace through our free online applications catalog.
Resources
API Overviews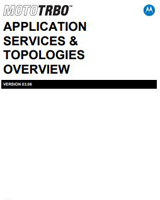 MOTOTRBO™ Services Overview
A high level overview of MOTOTRBO's application services capabilities, architecture and topologies.
For additional inquiries about any of the programs above, please send us an email at ADPLicensing@motorolasolutions.com
*Android is a trademark of Google LLC